Email: tylerKlekas@gmail.com
Wwise Implementation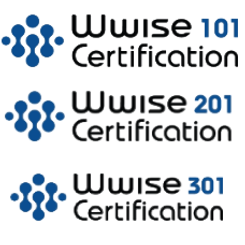 Wwise Certified
Certified in Wwise Fundamentals, Interactive Music, and Unity Integration from Audiokinetic.com
To the right... a video explaing Wwise implementation of sounds into the Unity 3D Game Kit
Nemesis
Nemesis is a 2-D dogfighter that takes inspiration from Vlambeer's work "Luftrauser." Play of one of three planes with different loadouts and specialties, fighting wave after wave of enemies. Each plane has a different Nemesis to fight if you can survive long enough.
Retro style sound effects

Made from scratch using VST synths and DSP

Frontpaged & #1 game-of-the-day on Newgrounds.com 
PLAY HERE
PETRO
An East L.A. kid has an altercation with an auto shop owner while skateboarding home from school.
15 Minute live action short film

Acted as on-set sound recordist

Oversaw recording equipment and captured dialog, sound bed, and ADR
LEARN MORE HERE